Smartphone trends to watch in 2019
The Mobile World Congress is kick starting 2019 and mobile enthusiasts will put themselves up to date with the latest smartphone trends. According to TechCrunch, 2018 was a bad year for smartphones- manufacturers no longer have innovative ideas to put into practice. We are only expecting deployment of 5G technology and a few new smartphones like Samsung Galaxy S10 and Sony Xperia XZ4. Surprisingly, Apple does not follow the 5G trend and will only release a 5G handset in 2020, which is quite late compared to competition. Ephotozine does not agree though, marking 2018 as a great year for smartphone innovation, justifying its statement by praising Huawei's unbeatable camera performance. Some of these events are definitely shaping the mobile landscape in 2019- so what are the game changing phone trends we can expect ?
5G

Everyone talks about 5G since last year. So whats coming and whats not ? It is true that we will see the first 5G headsets this year. But the trend will only become mainstream by 2020, which means a 5G experimental feature in 2019 will cost an arm and a leg. Moreover, when we talk about 5G we should not exclusively talk about smartphones. According to Robert J. Topol, Intel's general manager for 5G technology, "phones are the first place to launch because they're such an anchor in our lives from a connectivity standpoint." But its not all about them. 5G means having a smart home in which all devices are connected. And the smart home dream is yet to be achieved. Despite 2019 looking like the big year for changes, it will probably take another 10 years to implement all that has been speculated. The vast majority of smartphones wont be able to support 5G features and on top of that there will be a huge lack of cross-carrier compatibility. So don't buy into the hype.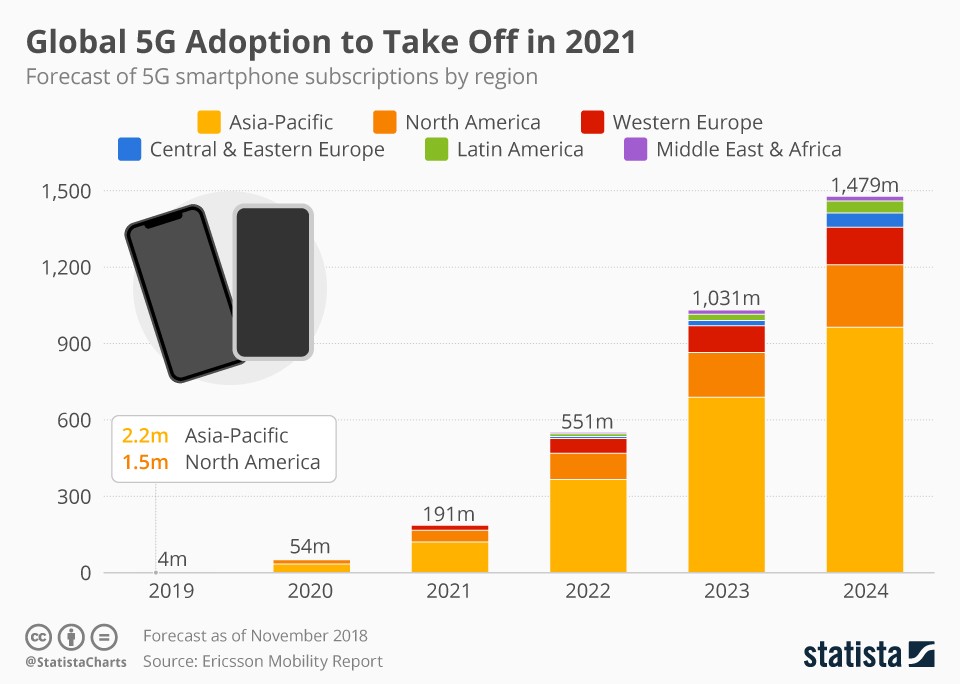 In-screen fingertip scanner
Although the 5G technology is only launching this upcoming year, in-screen fingertip scanners are already on the market for a while now. They first came to spotlight before Iphone X was launched. But in 2019 we are expecting to see an invasion of smartphones with fingertip identification. According to Display Fingertip Technology and Market Report, launched by IHS Markit in 2018, the number of smartphones using this technology will hit 100 million by 2019. Up until now, there are only two smartphone manufacturers that integrated the in-display fingertip reader: Vivo and Huawei – and their fingertip scanner is far from perfect. way worse than a traditional one. OnePlus 6T was the best implementation so far, but still not good enough.  Apple and Samsung are still struggling to innovate so they better get moving if they want to be considered world leaders.
Better cameras, sliding camera modules, improved low light performance and a general focus on photography
Looking back at 2018, there were some major trends in smartphone cameras: multiple lenses and the use of AI technologies. Most of the smartphone manufacturers still seem desperate this year to differentiate themselves from competition by continuously improving their cameras. Not long ago it was almost impossible to take a nice pic at night- today, low light smartphone pics quality is impressive. Samsung, Huawei and Google quickly became very popular names among mobile photography enthusiasts. LG and Nokia continue the megapixel madness by announcing more than 5 cameras to its upcoming phones. Light is also working on a 9 camera smartphone. Last, but not least, the concept of "slide or pop-up camera" when turning on the camera app will become less experimental and more common. Vivo NEX and Oppo Find X already started implementing this feature in their smartphones. However, It is difficult to predict if this trend will catch.